Population:
105.0 million
Adult Tobacco Users:
16.6 million
Annual Deaths Caused by Tobacco:
117,700
Source
Monitor tobacco use and prevention policies
Data are necessary to implement and evaluate effective tobacco control policies. The Global Adult Tobacco Survey (GATS) is a global standard for systematically monitoring adult tobacco use (smoking and smokeless) and tracking key tobacco control indicators.
In the Philippines, the Philippine Statistics Authority (PSA), in coordination with the Department of Health (DOH), implemented GATS Round 1 in 2009 and GATS Round 2 in 2015.
Adult tobacco use decreased
GATS Philippines 2009 and 2015
*Comparisons are significant at p<.05; Difference is larger than can be reasonably explained by chance and therefore reflects a true difference.
Source
Adult tobacco use decreased significantly from 29.7% in 2009 to 23.8% in 2015.
Source
Protect people from tobacco smoke
There is no safe level of exposure to secondhand smoke. The sole intervention that can fully protect people from the health dangers of secondhand smoke is creating environments that are completely smoke-free without any exceptions.
Smoking Ban in Public Places
In 2017, Executive Order (EO) No. 26 was implemented which banned smoking in public and enclosed public places including schools and recreational facilities for minors. There are strict standards and both individual violators and owners of establishments in violation of the EO can be fined.
Adults exposed to secondhand smoke in various places decreased
GATS Philippines 2009 and 2015
*Comparisons are significant at p<.05; Difference is larger than can be reasonably explained by chance and therefore reflects a true difference.
Source
Adults exposed to secondhand smoke in government buildings decreased significantly from 25.5% in 2009 to 13.6% 2015.
Source
Offer help to quit tobacco use
When informed of the risks, most tobacco users want to quit, but few get help and support to overcome their dependence. There are several evidence-based supports that can increase the chance to quit successfully.
Philippines Launches Professional Service to Help Smokers Quit
In June 2018, the Department of Health launched a phone and mobile-centered support service to help Filipino smokers quit tobacco. Once registered, users set a desired quit date and receive daily text messages. Smokers who want to quit can also call the hotline to talk with counselors from the Lung Center to receive real-time advice and counseling.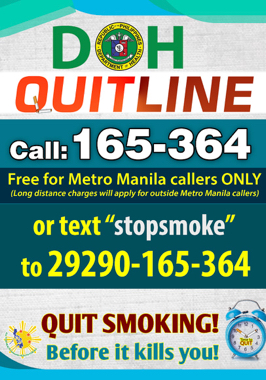 Source
Adult smokers who were interested in quitting increased significantly from 60.4% in 2009 to 76.7% in 2015.
Source
Warn about the dangers of tobacco
Effective health warning labels provide health messages directly to tobacco users, which raises awareness of their health risks and increase the likelihood that they will reduce tobacco use or quit altogether.
Graphic Warnings Sustain Impact of Anti-Tobacco Campaigns 
In 2014, the Philippines passed the Graphic Health warning Law (Republic Act No. 10643). Under these requirements, 12 pictorial health warnings are rotated on cigarette packages with text warnings displayed on contrasting background color, and cover 50 percent of the front and back of packages.
In 2015, the Philippines launched a public service announcement called "Cigarettes Are Eating You Alive!" on national Television. The campaign consisted of 15- and 30-second advertisements which warned viewers about the dangers of smoking and shared images used on tobacco packaging to increase knowledge about harms of tobacco use, and to encourage Filipino smokers to quit.
Source
Adult smokers who thought about quitting because of health warning labels increased significantly from 37.4% in 2009 to 44.6% in 2015.
Source
Enforce bans on tobacco advertising, promotion and sponsorship
Tobacco advertising, promotion and sponsorship (TAPS) increase tobacco use. Comprehensive TAPS bans have shown to reduce tobacco consumption.
Tobacco Regulation Act of 2003
The Philippines passed the Tobacco Regulation Act of 2003 (RA 9211), which contains restrictions and partial ban on TAPS. Tobacco advertisements are banned in mass media and outdoor advertising; however, the law allows advertising materials inside the premises of point-of-sale establishments.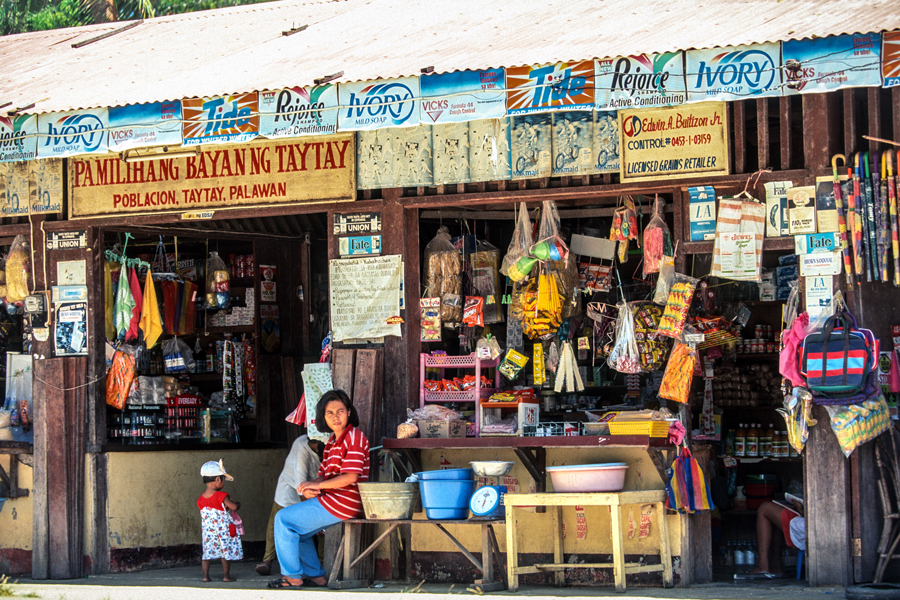 Source
Adults who noticed any tobacco advertising, promotion or sponsorship decreased significantly from 74.3% in 2009 to 58.6% in 2015.
Source
While the taxation measures imposed on tobacco products since 2013 have made these products less affordable and less accessible, there are still too many Filipinos who shell out substantial amount of their monthly income to support their smoking habit.
- Dr. Paulyn Jean Rosell-Ubial, Department of Health Secretary
Source
Raise taxes on tobacco
The most effective way to reduce tobacco use and encourage tobacco users to quit is to raise taxes to increase the price of tobacco products.
Taxation on Tobacco Improves Health Services
In 2012, the Philippines passed a Sin Tax Reform Bill (Republic Act No. 9334) which increased taxes on all tobacco products and requires a steady increase by 4 percent each year.
Within 2 years of passing the law, the Philippine Department of Health's budget increased from USD 1.25 billion to nearly USD 2 billion. In 2015, 15 percent of the revenue was used for programs that helped tobacco farmers and workers find livelihood alternatives. The remaining 85 percent helped fund universal health care, upgrade medical facilities, and train doctors and nurses.
In 2018, excise taxes on tobacco increased to 35 pesos per pack and will be increased progressively to reach an excise tax of 40 pesos by 2023.
Source
The inflation-adjusted average price per pack of 20 manufactured cigarettes increased significantly from ​24.9 pesos in 2009 to 48.0 pesos in 2015.
Source
View the full GATS Philippines reports: