Along the coast of the Indian Ocean, lies Dar es Salaam—one of the busiest cities in Africa and the commercial hub of Tanzania. Here, Neema Camara works as a public health officer with the Tanzania Ministry of Health, Community Development, Gender, Elderly and Children. Neema has always enjoyed working with people from the community, and this led her to specialize in epidemiology and public health.
As a girl, Neema attended primary and secondary school in Tanzania and Kenya. She later graduated from Moi University in Eldoret, Kenya, with an undergraduate degree in environmental health. Neema continued her education by earning a master's degree in applied epidemiology from the Muhimbili University of Health and Allied Sciences (MUHAS) in Dar es Salaam.
To register and attend MUHAS, Neema needed a sponsor for her studies. After inquiring sponsorship at the university, she learned about the Centers for Disease Control and Prevention (CDC)'s Field Epidemiology Training Program (FETP)—a fellowship program anchored within the Ministry of Health. Neema underwent a rigorous interview and examination process to join the FETP program. After many hours of studying, she passed the required oral and written examinations; entered the FETP program; and was able to register at MUHAS.
After earning her master's degree in 2015 at MUHAS, Neema completed her time with the FETP program and started her career as a public health officer with the Tanzania Ministry of Health in collaboration with the World Health Organization (WHO)'s Tanzanian office.
Although Neema's role as public health officer usually involves analyzing data and preparing reports about cholera, she is now working on a project about tobacco use, secondhand smoke exposure, tobacco cessation and the risk factors for tobacco use among adults aged 15 years or older at the Ilala Municipal council of Dar es Salaam. The project, funded by CDC in 2015, was one of five projects awarded a small grant to address risk factors (including tobacco use) for major non-communicable diseases.
Neema works with two CDC mentors who help to guide her research on tobacco control. CDC's Dr. Simone Salandy, one of Neema's mentors, explains, "Working as a mentor to Neema over the past year has been an extremely rewarding experience. I have had the opportunity to be very hands-on with Neema as she collects and analyzes the tobacco use data, and I have been so impressed by her enthusiasm, receptiveness, and commitment to her research." Dr. Salandy continues, "The FETP program is a great asset to CDC because we are able to support individuals like Neema, which encourages capacity building and offers guidance and technical expertise that might have been inaccessible before."
Neema describes her CDC mentors as an "oasis in the desert," and the driving force behind her project, as they offer technical assistance and expertise in data analysis and tobacco control research.
"Working on this project has increased my knowledge on tobacco control initiatives in Tanzania and globally."
In the summer of 2016, Neema applied to take part in an upcoming scientific writing workshop in Arusha, Tanzania. The workshop, which was held in September 2016, was hosted by CDC's Office on Smoking and Health; the CDC Foundation; and WHO. Organizers designed the workshop to enhance tobacco control capacity in the region by strengthening participants' writing skills and helping them develop scientific papers for submission to peer-reviewed publications.
Neema was thankful for the opportunity to take part in the workshop and sharpen her skills. "The training enhanced my scientific writing skills and provided me with basic information on the requirements for publication," she said. With the workshop over, Neema's hard work continues as she completes a scientific manuscript, which she hopes will be accepted by a peer-reviewed journal in the upcoming year.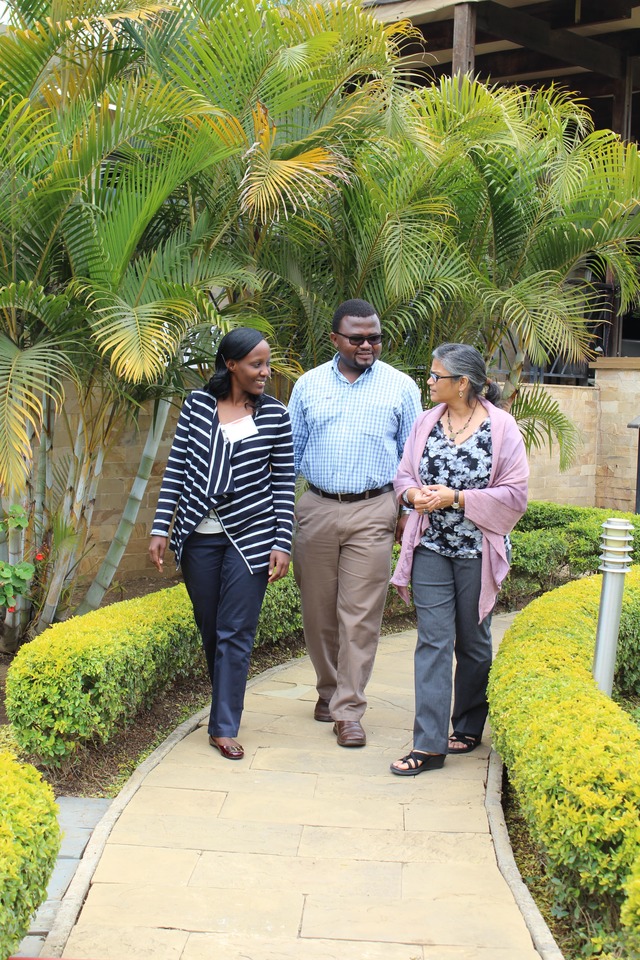 "Although the workshop was very short, the knowledge and skills gained were immense. The workshop was absolutely a catalyst to my quest to publish a paper so that I can communicate my tobacco control message to the public."