With a population of over 1.3 billion, India is the second-most populous country in the world. According to recently released findings from the Global Adult Tobacco Survey (GATS), 266.8 million adults in India currently use tobacco.
Almost 30 percent of adults use tobacco in India.
The Tata Institute of Social Sciences (Mumbai) for the Government of India's Ministry of Health and Family Welfare conducted its first round of GATS in 2009/2010, and again in 2016/2017. The survey was also supported by:
The World Health Organization (WHO) India Country Office and Regional Office for South-East Asia (SEARO).
The Centers for Disease Control and Prevention (CDC).
The CDC Foundation.
RTI International.
CDC shared India's national GATS fact sheet on November 24, 2017. The survey included data from 74,037 adults among 30 states and two union territories in India. The implementing agency also plans to release state-specific fact sheets over the next six months.
The findings from GATS show that India has improved on several key tobacco control measures. In 2016/2017, India's national average for tobacco use among adults was 28.6 percent—down from 34.6 percent in 2009/10. Among the 32 states, overall tobacco use ranged from 9.7 percent (Goa) to 64.5 percent (Tripura) in 2016/2017. Nationally, the proportion of tobacco smokers and smokeless tobacco users decreased significantly since 2009.
Overall tobacco use in India decreased by 17 percent since 2009.
India also improved in other tobacco control measures including:
Adults who noticed health warning labels on packages of cigarettes.
Adults exposed to secondhand smoke in homes.
Adults who noticed any promotion of smokeless tobacco products.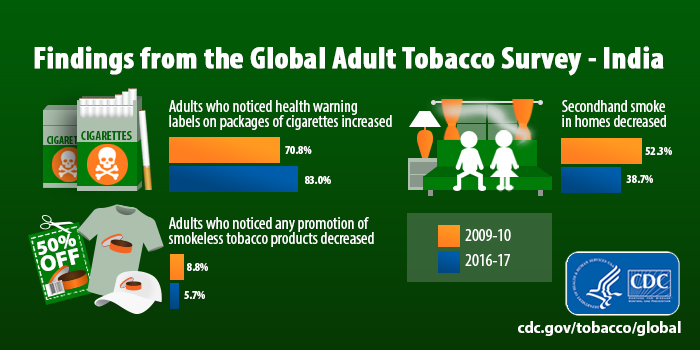 India has shown a strong commitment to tobacco surveillance and tobacco control. The findings from GATS will help inform the country's tobacco control and prevention strategies further.