Tobacco use is the number one cause of preventable death and disability in the world, with approximately 6 million deaths each year due to tobacco-related illnesses. If current trends continue, this number is expected to increase to more than 8 million deaths per year by 2030. The majority of these deaths are projected to occur in the developing world. It is estimated that without comprehensive tobacco prevention and control efforts, the smoking prevalence in sub-Saharan Africa will rise from 15.8 percent in 2010 to 21.9 percent in 2030. In response to the global tobacco epidemic, the World Health Organization's Framework Convention on Tobacco Control (WHO FCTC) calls for monitoring of the tobacco epidemic, communication of information, capacity enhancement and collaboration among national and international organizations (see Articles 20-22).
CDC collaborates with WHO and other partners to help countries collect data on key tobacco control indicators through GTSS. The data is used to assess the burden of tobacco use.
Once data are collected and analyzed, the challenge becomes how to use and interpret the data to help address the tobacco-use epidemic.
The Data-to-Action (D2A) group in the Office on Smoking and Health at CDC was created to help countries use tobacco control data for policy and program development by providing training, resources, tools and mentorships.
In September 2016 the D2A group, along with the CDC Foundation and WHO, supported a two-part regional workshop in the WHO Africa region to enhance capacity to write tobacco-related briefs and scientific manuscripts for peer-reviewed publications. There were 26 country-level officials from 12 countries who participated in the tobacco control brief portion and 17 participants from 8 countries in the scientific writing portion of the workshop (see map).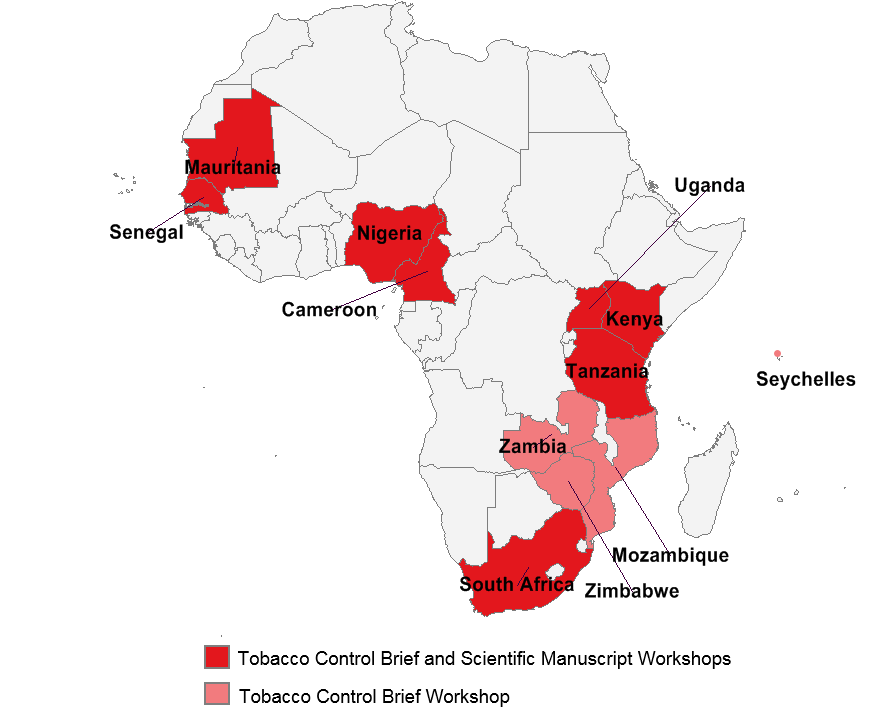 By the end of the workshop, 11 briefs were drafted. Topics included smoke-free environments and cessation services. Participants for the scientific manuscript workshop either collected primary data or used GTSS data to report tobacco use and other key indicators. Some topics assessed included exposure to secondhand smoke, cessation strategies and tobacco purchase patterns. By the end of the scientific manuscript workshop, 11 draft manuscripts were developed; timelines and work plans for submission to scientific journals were also created.
Dr. Sam Posner from CDC, an instructor of the workshop, commented, "An important part of CDC's contribution to public health is to support knowledge and skill transfer between colleagues around the globe. Providing training on foundational skills such as scientific writing increases public health capacity, improves sustainability and supports dissemination of evidence that can inform public health efforts."
Most of the participants in the tobacco control brief (91 percent) and scientific writing (87 percent) workshops indicated that they gained new knowledge, and most participants indicated the workshops were relevant to their work in tobacco control. Neema Camara, who participated in the scientific writing workshop recalls, "Although the workshop was very short, the knowledge and skills gained were immense. The workshop was absolutely a catalyst to my quest to publish a paper, so that [I will be able] to communicate my tobacco message to the public."
Beyond the workshop, the assistance provided to trainees by CDC and the CDC Foundation has continued. Efforts are ongoing to help trainees complete their briefs and manuscripts, disseminate their work, and promote a community of practice among participants.
Workshops such as this have the potential to strengthen technical capacity among tobacco control professionals and to encourage the use of GTSS data to inform tobacco prevention and control strategies.